JOBTALK was founded by Krystal Hicks in 2018 in Portsmouth, New Hampshire. After more than 10 years of working in the employment sector, Krystal decided to professionalize what had inadvertently developed into a rogue side hustle, providing job hunting advice and recruiting insight to students, educators, businesses and professionals.
"I decided to create JOBTALK after years of having to apologetically say "no" to people who fell "outside" of my job's direct client-base. I remember working at the University, and I would have parents calling me saying, 'I know you have been working with my son/daughter this year, and I was wondering... could you take a look at my resume?' I hated not being able to help people due to a lack of time/bandwidth on my part, or sometimes a conflict of interest dictated by my employer. I do this work because I love it, and because I've seen time and time again how even the tiniest course corrections in someone's process can make all the difference in their search or situation. Launching JOBTALK is about finally stepping into the driver's seat and leveraging my skills and experience to benefit my community and clients in a more direct and meaningful way." - Krystal
Originally from Dover, NH, Krystal graduated from the University of New Hampshire (UNH) with a BA in Journalism. As a born-and-raised Seacoaster, she stayed in the area and accidentally began her career in the employment sector in 2008 when she fell into an administrative role at a staffing firm in Portsmouth. With the recession looming, she found solace in the role and continued bartending to make ends meet. She quickly realized though how interesting the employment sector was and worked her way into a Staffing Manager role where she specialized in placing accounting and finance professionals.
While Krystal loved sourcing talent for companies, she realized that coaching candidates was really where her passions lied. After a few years in staffing, she saw a posting for a Career Services Advisor at a local community college and decided to make the leap. She leveraged LinkedIn, found a contact who worked there, and wound up landing an interview. She was offered the job and quickly saw her corporate/staffing experience lend itself to the real-world advice her students needed. In 2012, she completed her Master's in Higher Education with a focus in college administration and leadership. Soon after graduating, she was notified by a colleague about an opening on UNH's Career Services team. Rumors had been swirling that the community college was about to be acquired, so she went for it and was offered the role at UNH. Four years and two promotions later, she became the Director of Career Services and hired a team of six who provided career counseling to UNH's 15,000 students and countless alumni.
In addition to her full-time role, Krystal also worked one morning a week for three years developing a job skills curriculum for inmates, providing pre-release employment counseling to the men and women at Strafford County Department of Corrections.
After an amazing journey at UNH, Krystal was recruited to join Lindt & Sprungli (USA) Inc. to manage their U.S. talent acquisition and employer branding initiatives at their U.S. headquarters in Stratham. Finally in 2018, JOBTALK was born and the transition from side hustle to official LLC took place. Krystal still resides in the Seacoast and currently works with clients all over the U.S.
To view Krystal's full professional background, connect with her on LinkedIn.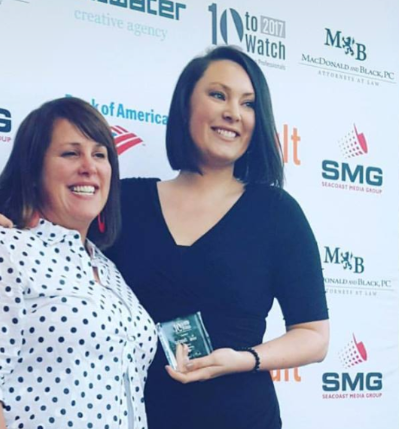 Krystal named one of Seacoast's "10 to Watch"
In 2017, Krystal was recognized as one of the "10 to Watch" winners; a NH-based contest recognizing young professionals who are active in the community and working towards economic development in the Seacoast.